NORTH AMERICA FRANCHISING GENERAL INFORMATION
Doing Business

The Wendy's Way.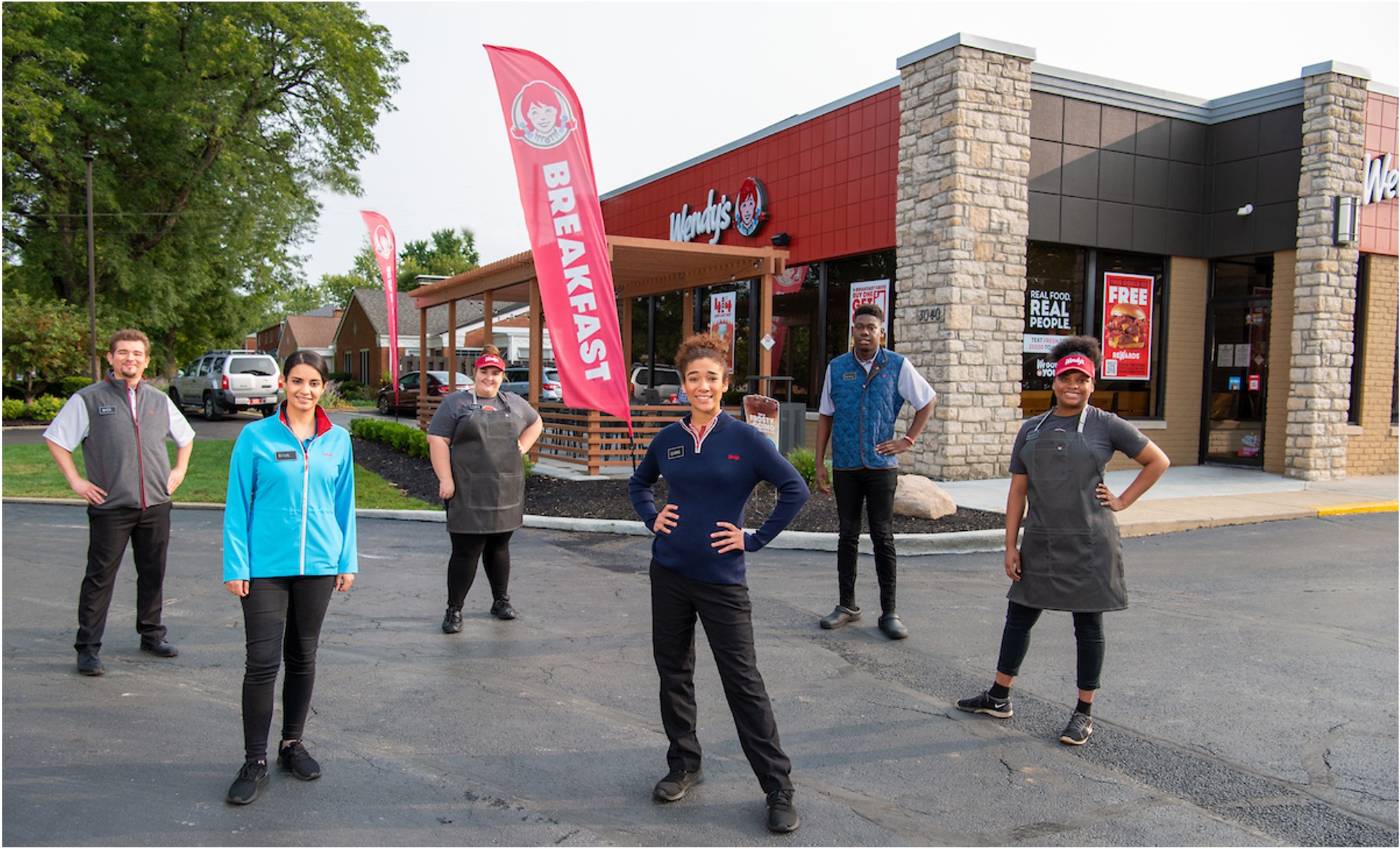 It's an exciting time to join and grow with The Wendy's Company. Doing the right thing, the right way, has been at our core since our founder, Dave Thomas, opened the first Wendy's restaurant. We continue to follow his sound principles to ensure we build upon our position as a quality leader in the Quick Service Restaurant industry.
Wendy's strength is due to:
Our approach to corporate social responsibility, which we call Good Done Right. Focusing on respect, equality, and fair treatment for our team members, franchisees and partners is a central part of our business.

Strong, experienced leadership team

Commitment to quality and our innovative, evolving product line

Impactful advertising and digital marketing

Our restaurant design with emphasis on friendly, accurate, and fast service in an inviting, modern, clean, and upbeat environment. We offer a flexible range of footprints & investment options because we believe that everyone deserves to experience Wendy's, no matter where you're located.

Experienced franchise community including our high energy "Next Generation" of franchisees

Community involvement through our support of the Dave Thomas Foundation for Adoption that strives to find loving homes for children in the foster care system
Qualifications
We're looking for Wendy's kind of people – people who are enthusiastic about serving fresh, craveable food and providing exceptional customer service. We are looking for:
Single-unit and multi-unit opportunities through the development of new restaurants or by the acquisition of existing restaurants
Operators who have single-unit or multi-unit restaurant experience (preferable quick service) with proven leadership skills
Passionate operators with a focus on restaurant experience, local market knowledge, and a strong willingness to learn and practice the Wendy's business model
Exceptional managerial and business acumen
A growth-driven mindset with the vision to expand into multiple locations
Access to adequate capital for reinvestment in Wendy's image Activation program and new restaurant development
Financial Requirements
The minimum financial requirement for new single-unit and multi-unit franchisees or franchisee groups are:
Minimum net worth of at least $1,000,000 USD

Minimum liquidity of at least $500,000 USD
Fees and Estimated Costs
All fees and estimated costs are for our US and Canada markets and the dollar amounts are in USD.
Background Check Fee – $500 per person

Post Approval Application Fee – $5,000

Technical Assistance Fee – $50,000 per restaurant (franchise fee – for  a 20-year term)

Royalties – 4% to 6% of gross sales (varies by asset type and country)

Advertising – 4% of gross sales (split between national and local and varies by country)

International inquiries, please click here to visit our international franchising section.
Wendy's Non-Traditional Development
One component of Wendy's overall growth strategy is non-traditional development. Our development experts can help streamline a design to fit any number of high-traffic locations, including:
Airports

Colleges and University campuses

Highway and travel plazas

Hospitals

Military bases

Office buildings

Entertainment venues

Service station co-brands

Delivery only unit
These high-visibility, high-traffic locations offer convenient access to our customers and may be an attractive investment opportunity for franchisees.  Developers of the various venues understand that adding Wendy's to their location provides a diverse menu with a variety of freshly made, great-tasting food.
Wendy's non-traditional development team provides support and experience to franchisees pursuing non-traditional opportunities, including prototype restaurant elevations and layouts, kitchen equipment designs, and assistance with project proposals.
If you are interested in discussing non-traditional development you may contact us at: Wendys.Franchising@wendys.com
Available Support
Operations
Franchisees receive ongoing direct support from our skilled operators at the field level. We strive for A-level operations at every restaurant and provide the tools, resources, and training to achieve superior customer service levels while maintaining restaurant-level profit margins. 
Training
Initial and ongoing manager and crew level training programs focus on what is needed to provide Wendy's "A Cut Above" total customer experience as well as providing management training on various business skills.
Marketing
We engage in multiple national media platforms throughout the year combined with local field marketing programs to provide a balanced marketing strategy that supports your market's needs.
Restaurant Development
The Restaurant Development team provides varying levels of coaching to 'hands-on' support options from our professional real estate team. This support can help with site selection, site layout, and initial and ongoing construction services. We have a variety of development programs for franchisees to select from and to support restaurant development.
Supply Chain Co-op
As a franchisee, you will become a member of Wendy's independent Quality Supply Chain Cooperative who works with leading suppliers to provide Wendy's restaurants with products and services that offer quality, consistency, and value.
Quality Assurance
The quality assurance department ensures that Wendy's maintains a high level of food safety and quality standards through a rigorous ongoing product and restaurant inspection process.
Information Technology
Wendy's seeks to provide an innovative customer experience through the use of the latest technology such as digital services and mobile ordering/ payment options as well as assistance for the franchisee with ordering and reporting programs through a restaurant back-office system.
Franchise Development
The Franchise Development team drives the management and administration of all activities or events associated with current franchise organizations and their restaurants. This includes franchise agreement renewals, franchise to franchise transfers, partial transfers or ownership structure changes, franchise compliance (Reimaging, obligations, etc.), and restaurant maintenance. They also drive the creation and management of key development programs, such as Joint Capital Planning.
Government Relations
The government relations team identifies issues of importance to Wendy's and then works to communicate our point of view to Members of Congress and other government officials to ensure our issues are clearly understood. Wendy's PAC (Political Action Committee) is among one of the largest and most active in our industry. 
Franchise Advisory Groups
Wendy's senior leadership team values their relationships with all Wendy's franchisees and enjoys regular opportunities to touch base on initiatives and general feedback. Through franchise advisory groups and other engagements, we focus on specific topics such as marketing, operations, growth through development, and technology.
Interested in becoming a Wendy's Franchisee?
Click on the link below for more information about market availability, our process, and to apply.